JDM Theory Car Show
Japantown Summer Obon Festival
San Francisco, CA
August 01, 2004
Written by Joseph Keawkalaya
Images provided by Joseph Keawkalaya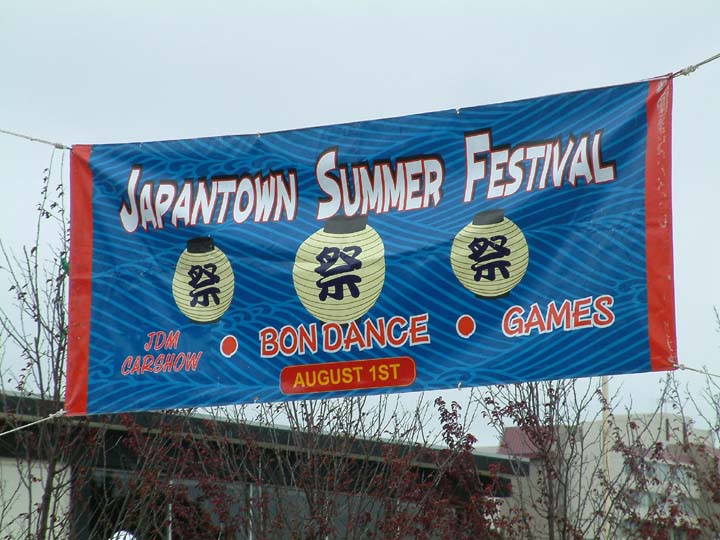 Created: 8/1/2004
Last updated: 8/2/2004
Today, I went with Sue to the JDM Theory Car Show at the Japantown Summer Obon festival. Edna showed up later to hang out. I know that if Glenn were there with his 240SR Silvia, he would have won a trophy or two. There were a lot of cars and a lot of spectators in attendance but too bad San Francisco lived up to its name and provided us with beautiful foggy and overcast skies with a sprinkling of rain, mist, and winds. Thanks again to Junior, Jeff, and all the JDM Theory guys and gals that worked tirelessly before and during the show to make sure that it was a success. 360 Degree video was present as well as some other magazine photographers.
Some of the crowds at the show
My Twin Turbo 300 ZX that won Best JDM Sports Car.
240SX
300ZX
350Z with Q45 Headlight conversion.
510
Accord
Audi
BMW
Civic
Corolla
CR-X
G-35
Integra
IS300
Lancer EVO
Miata
MR2
MX-6
NSX
Prelude
RAV4
RSX
RX-7
S2000
Scion
Skyline GT-R R32
Supra
WRX.
GTI
Turbocharged Beetle

Some Northern California Drift Academy members hanging out next to Joe's drift 300ZX TT.

Sue doing her best to alleviate boredom by chatting on the cell phone.




Sue's friend Edna came by and attempted to steal my car.