JDM Theory Car Meet
Japantown Garage
San Francisco, CA
July 25, 2004
Written by Joseph Keawkalaya
Images provided by Joseph Keawkalaya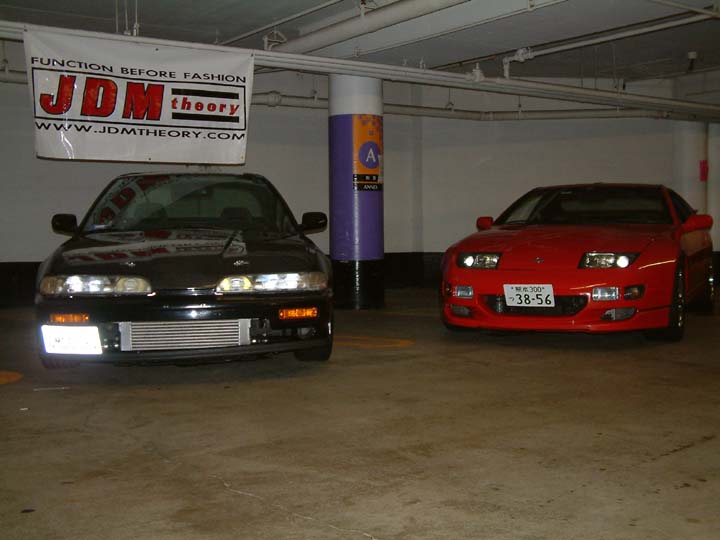 Created: 7/25/2004
Last updated: 7/25/2004
This Sunday, I was invited to attend a small car get together sponsored by JDM Theory at Japantown. What originally was planned as a 30 car or so event ended up filling the parking lot to capacity. There were a lot of nice machines and a lot of cars that represented the JDM cars found in Japan. Thanks to Ernesto and Jeff for taking care of the planning and coordination of this meet.
There is also going to be a big outdoor car show next Sunday, August 1, 2004 during the Summer Obon festival that is sponsored by JDM Theory as well. If you have a chance, please come out to take in the beautiful weather (hopefully *knock on wood*), look at the beautiful cars, and enjoy some of the events that will be taking place.










Junior's turbocharged Acura Integra with Nitrous.





Joel's turbocharged VTEC Acura Integra.
3rd Generation Acura Integra.
Honda Civic Coupe.



Current Honda Civic Si Hatchback.







Honda S-2000 interior. He had an awesome sound system that incorporated the subwoofer into the center section between the seats and the rear trunk. Due to technical difficulties, the pictures of the outside of his car didn't come out. If anyone has any pictures of it, please submit it to me so that I can include it.












Lexus IS300. Check out the last one with the chameleon style paint scheme that was even applied to his wheels.



















Mitsubishi Lancer EVO. Check out the DEFI heads-up display on the yellow one.






Nissan 240SX (180SX). The white one belongs to my friend Anthony and it's powered by a twin cam turbocharged KA24DE.










Nissan 240 SX S-14 with an SR20DET conversion.





I had to give the owner of this Scion props. I am sorry that I forgot his name. If you notice, that is an Iraqi license plate on his front windshield. He was in the Army in one of the engineering corps and was one of the first troops to step foot into Iraq. His group was responsible for dismantling roadside bombs, mines, and other explosive ordinances and booby traps. He was one of the first soldiers that headed into Baghdad International airport to clean out the booby traps and try to restore all major systems and airport infrastructure. He pulled the plate off of a car that they blew up because it was rigged to explode and cause serious harm. I salute him and others who are still in war zones fighting for the US on behalf of freedom and the democratic way of life.
Subaru WRX.
Cool current model Twin Turbo Porsche 996 Convertible. You gotta love those brakes.

















Some fun with pictures with Junior's, Joel's and my car.