Trip to SoCal for 510 Swap Meet and 240SX Show
July 26-28, 2002

My Buddy Kevin "Big Daddy" Neely with Mr. Yutaka Katayama, aka Mr. K "Father of the Z"
Kevin and I decided to head down to Southern California for the 240SX show that was being held at the Nissan Headquarters in Torrance and then heading over to Mario Lozano's Shop for a 510 swap meet the next day. It was a great opportunity to hang out at the Nissan Headquarters and check out all the SR20 powered cars. I also wanted to head over to the swap meet to find parts that I may need for my 510 that I just recently acquired. That is my new project car... all thanks to Kevin who wouldn't stop badgering me about buying a 510 after seeing how his turned out. Mine will hopefully be as well-put together as Kevin's 510.












When we first arrived in Torrance, people were meeting up down the street from our hotel for the much hyped Canyon Run. I wanted to take more pictures as one of the Nissan engineers brought out a 350Z but the police came by and told everyone to leave the parking lot. Oh well. As far as I can see in the parking lot, there were over 2-300 sports cars of all types-- from Twin Turbo 911 Porsches to Dodge Vipers almost every car was represented.
When we arrived at the 240SX/SR20 show at Nissan Headquarters, there were many different Datsun/Nissans in attendance. Mr. K even dropped by for a surprise appearance. He is the father of the Z car and was the former head of Nissan North America. He was solely responsible for bringing the Z over to America.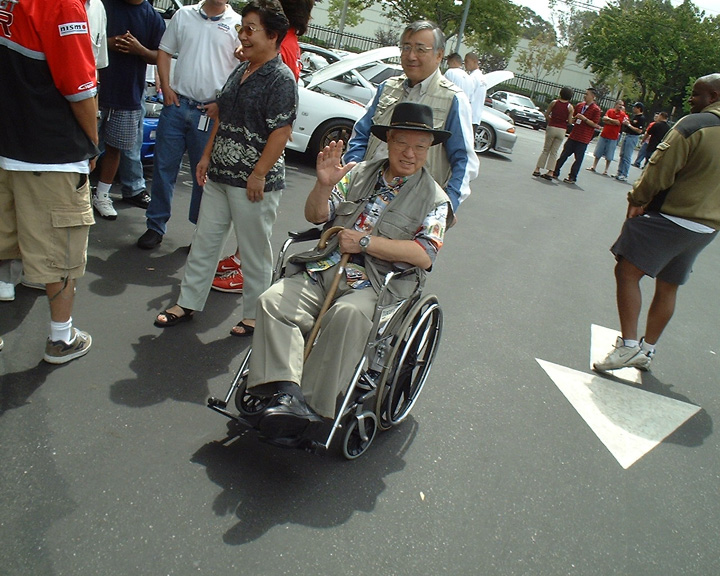 510 Section






I don't think that any part on this 510 has been left untouched.




This beautiful green beauty was also powered by an SR20DET and was one of Mario Lozano's first 510 SR20DET conversions.






McKinney Mortorsports 510 drag car powered by an SR20DET.
Mike Kojima's Project Z















Mike just recently installed a J-spec fascia like my own but with the front license plate frame shaved. He also acquired a set of the 1999 J-spec HID headlight unit that I am looking to purchase soon. All I can say is awesome.
240SX/Silvia section








Right hand drive J-spec 180SX.








I really have no comment about this car. Take a look for yourself.






Enonvative's 240SX with an entire S-15 motor and harness swap.





Nice 240SX with J-spec S-15 front end.





This car had a beautiful paint job that looked like it was freshly painted.





Beautiful blue paint job on this 240SX.





This 240SX had a Skyline RB26DET motor and some Skyline parts installed.
The Skyline section
Skyline R-32s
Skyline R-33s
Skyline R-34s








One of the best looking R-34s in attendance







Extremely rare Nurburging edition Skyline R-34.
Z32 Section
Pics from the Swap Meet at Toe Speed Racing






Phil's SR20DET powered 510 with prototype front airdam being fitted.






S-15 SR20DE powered 510 with variable valve timing.





Mario Lozano checking out the 510s rolling by.


Religious icons painted on hood of 510.




































Other miscellaneous 510 pictures.
After this weekend, how could I not be excited at building up my 510 and installing an SR20DET motor into it. With the parts obtained and the knowledge gained, I hope to be able to build a 510 that will turn heads, be reliable, and also be very performance oriented. Datsun/Nissan put a lot of thought into designing the 510-- which was way ahead of it's time. I am just taking the good qualities and enhancing them with some modern day technological parts. It will be a long and time consuming process to build the car the way I want it... but it will be well worth the effort. All I can do is dream about what it is like to have my 510 up and running. For now, my Twin Turbo Z will provide my speed fix (which I still love and will never give up) and if I want to ride in a 510, I'll just jump in Kevin's 510.
Last updated 8/04/02